Wednesday, June 16, 2010
Join us Saturday July 17 at 1pm EST for our discussion of Bullet by Laurell K. Hamilton. Book 19 in the Anita Blake Series. Lots to talk about so fan or not feel free to join in the discussion.
Radio Show - Visit Blog Talk Radio and sign up for a reminder about this show.
http://www.blogtalkradio.com/terry-kate/2010/07/17/bullet-by-laurell-k-hamilton-book-club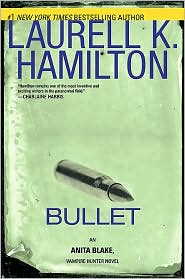 BULLET
by Laurell K Hamilton
Publisher: Penguin Group
Synopsis
The music came back up and the next group of little girls, slightly older, came out. There was a lot of that in the next hour and change. I liked dance, and it was no reflection on the kids, but my will to live began to seep away on about the fifth group of sequined children...
-
Anita Blake is back in St. Louis and trying to live a normal life—as normal as possible for someone who is a legal vampire executioner and a U. S. Marshal. There are lovers, friends and their children, school programs to attend. In the midst of all the ordinary happiness a vampire from Anita's past reaches out. She was supposed to be dead, killed in an explosion, but the Mother of All Darkness is the first vampire, their dark creator. It's hard to kill a god. This dark goddess has reached out to her here—in St. Louis, home of everyone Anita loves most. The Mother of All Darkness has decided she has to act now or never, to control Anita, and all the vampires in America.
-
The Mother of All Darkness believes that the triumvirate created by master vampire Jean-Claude with Anita and the werewolf Richard Zeeman has enough power for her to regain a body and to immigrate to the New World. But the body she wants to possess is already taken. Anita is about to learn a whole new meaning to sharing her body, one that has nothing to do with the bedroom. And if the Mother of All Darkness can't succeed in taking over Anita's body for herself, she means to see that no one else has the use of it, ever again. Even Belle Morte, not always a friend to Anita, has sent word: "Run if you can..."
------
Eclipse Event!
Visitors - PC Readers are gearing up for the big premiere and getting ready to go out into the masses and spread the word. Get involved and learn all the details below.
More Giveaways
Sherrilyn Kenyon

Previous Shows
White Cat by Holly Black Discussion
Stormwalker by Allyson James Discussion
Wicked Becomes You by Meredith Duran Discussion
Hearts at Stake by Alyxandra Harvey Book Club

Signed Book Plates
Blog Archive